Fir tree-clad mountains, glistening lakes and rivers, and traditional village life… every minute spent in Central Greece fills you with the urge to get active. Just a few hours' drive from Athens, it's a world that's as accessible as it is remote. And it's at its best outside the summer months. How many more reasons do you need to visit? Well here are five for spring and autumn… and a bonus for winter!
Kayaking on Lake Kremaston
Lake Kremaston
With all that mountain greenery and water, it's only right you set off at your own pace. So hop into a kayak with your other half, or perhaps make up a flotilla with friends, and take to the water on Lake Kremaston. Greece's largest artificial lake was formed by the damming of several rivers, creating not only a site of outstanding natural beauty but also adding to the rich biodiversity of an area now protected by Natura 2000.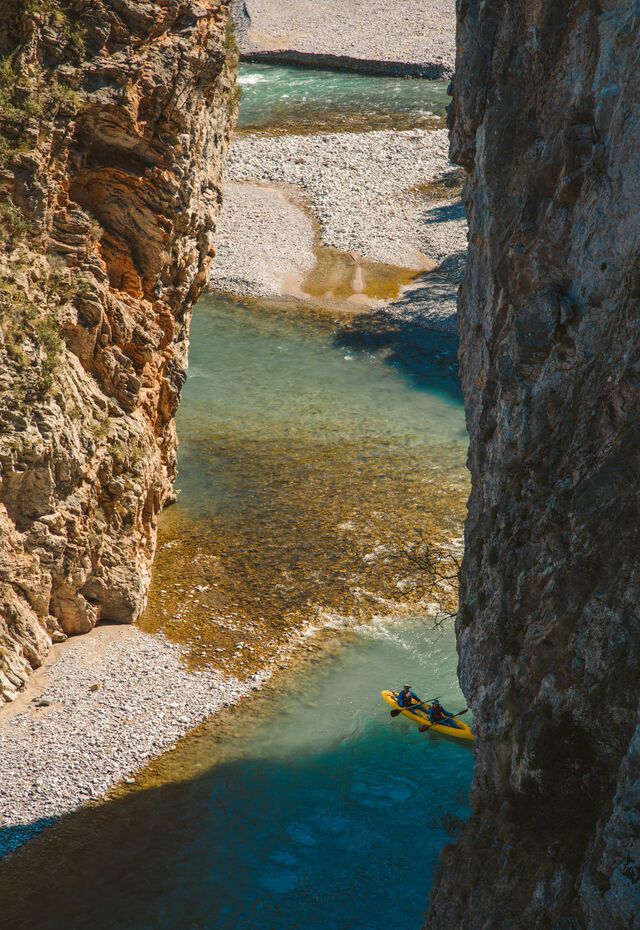 Rafting on Krikeliotis River
Krikeliotis River
Let's up the tempo now and head to Krikeliotis (or Trikeriotis) River for some rafting. The route we've chosen starts near the famous Proussos Monastery and winds through 9km of narrow, tree-lined valley, twisting for 2hrs over rocks and stones that – as the surrounding mountains lose their snow during the spring months – create level 3 rapids. One minute your adrenaline levels are spiking, the next you're gently meandering along to the twitter of birdsong. Just the sparkle of sunlight on the green-tinged meltwater is worth the ride. A really beautiful experience, suitable for teenagers and over.
Hiking to the Black Cave … and beyond
Mavri Spilia (Black Cave)
Such magnificent countryside is, of course, made for hiking. So whatever the time of year, walking options abound. The route to the hidden Panta Vrechi (Always Raining) waterfall is a highlight, but for something a little different you should head to Mavri Spilia (Black Cave) on a path starting near the Proussos Monastery. It's a 30min trek across wooden bridges and past little waterfalls to the cave, famous as a hideout during the Turkish and German occupations.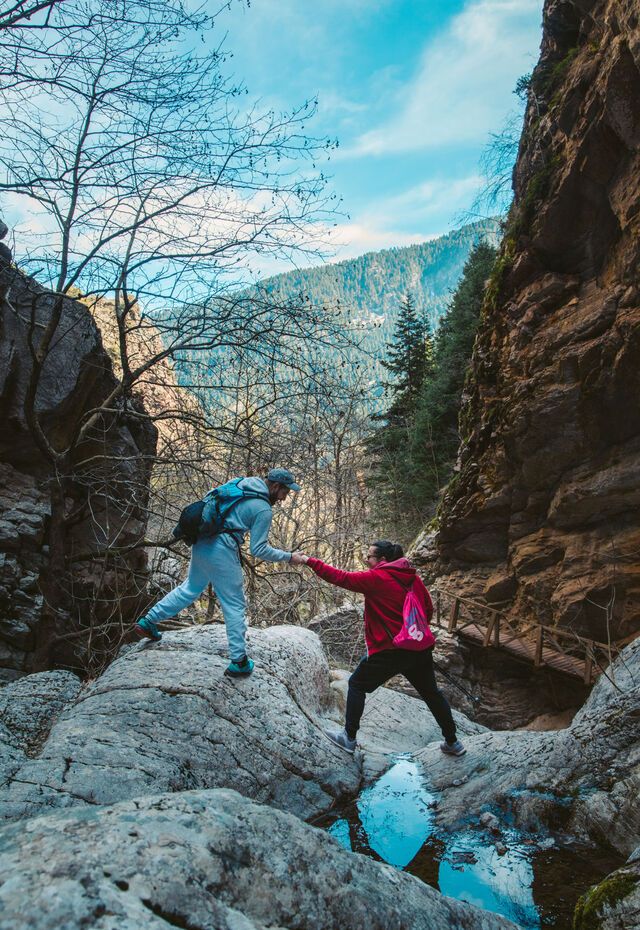 From here, there are signposts to the narrow Via Ferrata path, literally carved into the rockface. With beautiful scenery and occasional waterfalls to admire, it's a 4hr round trip suitable for ages 12 and over. You might even have a dip in a plunge pool so pack your swimmers.
Village hopping in Evritania
Evritania
With all those twee stone houses and cobblestones, the villages of Evritania are too picturesque not to explore one by one. So how about some romantic village-hopping?
The largest, with a population of around 200 and the most accommodation options, is Megalo Chorio (Large Village), built amphitheatrically in the shadow of Mt Chelidona, at an altitude of 720m. There's a folk museum cataloguing the area's rich history, but you'll be just as happy listening to the Karpenisiotis River rushing through the village.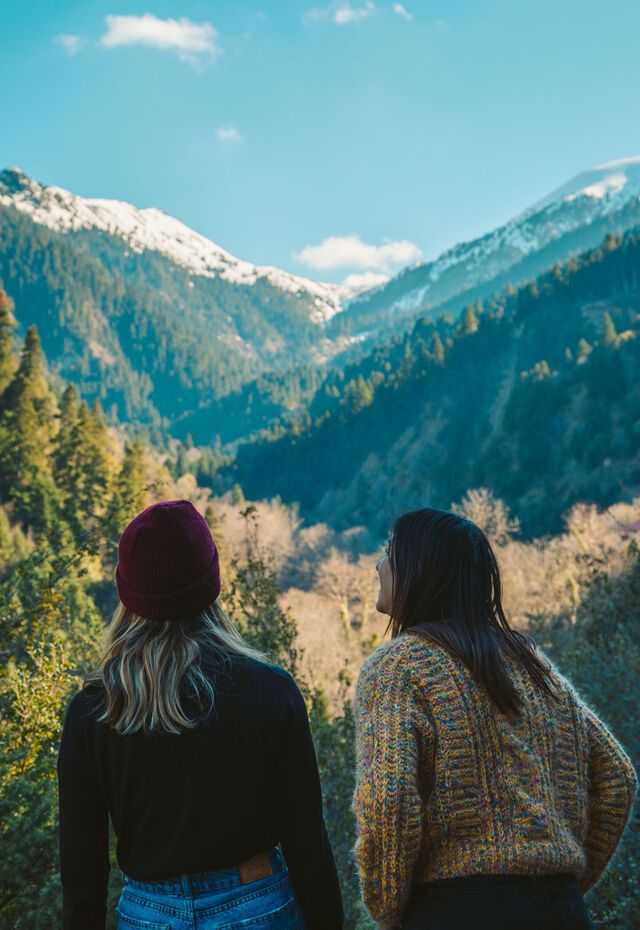 Or head up a couple of hundred metres, through the forest and into Mikro Chorio (you guessed it, Small Village) with a population of just 20. Enough said!
Elsewhere, Koryschades, 4km from Karpenisi, has the distinction of housing Greece's first government after the World War Two (a story told in a local museum). And there's Tornos, lost among fir trees and small vineyards. Multiple footpaths allow you to explore the countryside, before returning to tuck into some soul-filling village fare.
Mountain Biking in Evia
Mt Dirfys
We're off east now to Evia, on the other side of Central Greece. Apart from being Greece's second-biggest island but connected to the mainland by a bridge, Evia has another defining characteristic in being mountainous. So it's time you hopped on a bike and headed for the hills.
Our proposed trail starts in the village of Steni, in the heart of Evia and just 1hr45mins from Athens. There are numerous paths up the slopes of Mt Dirfys, passing through a forest of pine, fir and chestnut trees before descending to Kampia village. You head up again, along Mt Olympus (not the one where the gods live), past little churches, rivers and gurgling brooks, before returning to Steni. You'll have cycled 25km in 4hrs, with an elevation gain of more than 1,000m, so make sure you're fit enough for the challenge.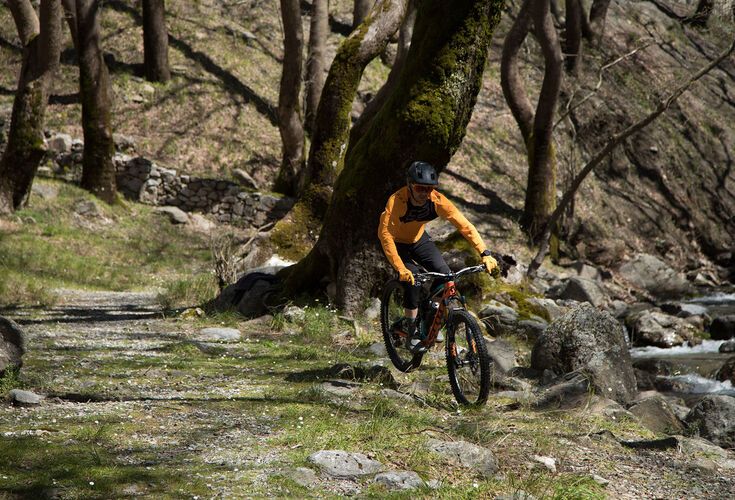 Winter sports on Mt Parnassos
Mt Parnassos
Who would have thought that just three hours from Athens, you could be clicking on your skis and pulling down your goggles? Mt Parnassos houses Greece's biggest ski centre and is definitely worth a couple of days skiing or snowboarding with family or friends. With 19 slopes and a variety of lifts (including a gondola), it's a wonderful (and inexpensive) addition to any winter holiday in Greece.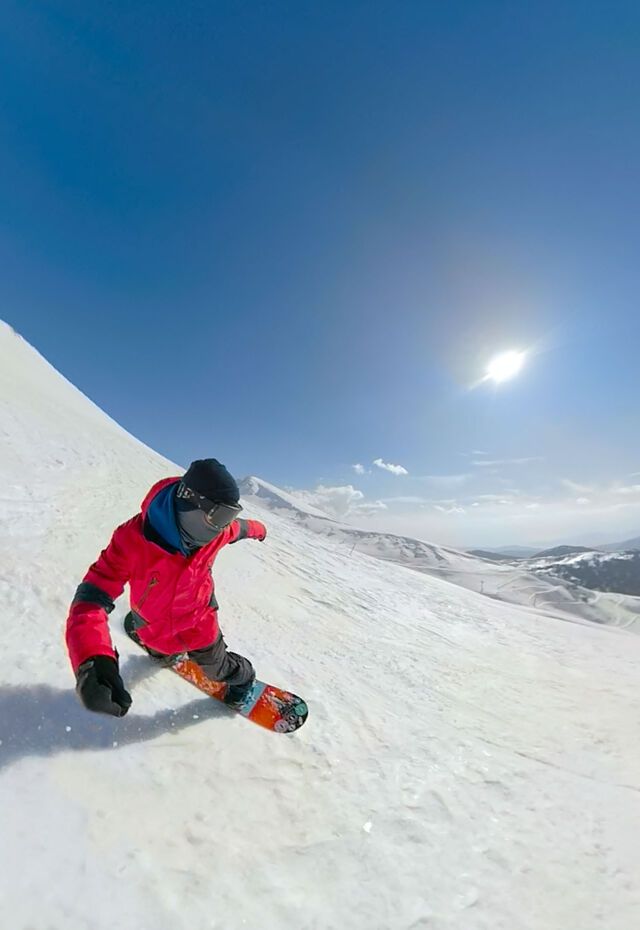 A world of outdoor fun in Central Greece
Not what you were expecting from Greece, was it? Spring, autumn and winter fun for couples, friends and families. Something for everyone, whatever your age and ability. You just need to have one thing in common… to love the outdoors and nature. If that's you, Central Greece has got you covered.
https://www.discovergreece.com/